System Empires is proud to be one of the first web games to distribute prizes among it's players.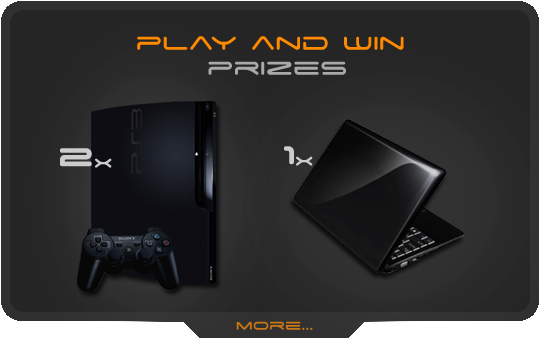 The presented images are merely illustrative.
1. General Conditions
This is not a contest and the prizes will be drawn by the administration team through a code script at the administration panel.
If you disagree with these conditions, you must clarify this immediately in order to be excluded from the list of candidates to the prize.
Prize winners will be responsible for picking up the prizes (or payment of any shipping costs).
If the winner does not live in Portugal or if there is preference prizes can be monetary with a value of 66% of the prize.
The same player can not win more than one prize.
1.1 Laptop (netbook)
To be drawn at the end of the first 6 months.
Only active players with Gold or Silver services for more than 2 months will be considered for the draw (the time of consecutive services is summed up).
1.2 PS3
To be drawn if there are more than 1.000 active players.
Only active players registed for more than 1 month and with more than 50.000 points will be considered for this condition.
The drawn will take place between 3 and 6 months of game, as soon as the previous conditions are met.
If the game reaches the total of 2.500 players, in the given conditions and in the same period of time, another PS3 will be awarded.
This page was visited 1.375 time(s) with average loading time of 0.021s.
Last edited in 23:28 05/10/09 by Bruno.